Let's start this post-Human Digestive system (Alimentary canal)
INTRODUCTION 
The digestive system is a collective name used to the alimentary canal, some accessory organs, and a variety of digestive process, That takes place at a different level in the canal to prepare food eaten in the diet, for absorption.
Alimentary canal also known as gastrointestinal( G.I) tract, commences at the mouth passes through, abdomen and pelvis and ends at the anus.
The activity in the digestive system can be grouped under five main headings.
 1.Ingestion –This is the taking of food into the alimentary tract i.e eating and drinking.
 2. Propulsion-This mixed and moves the contents  along the alimentary
Canal (tract ).
3.Digestion –This consists of –mechanical break down of food by ex-mastication (chewing ).
Chemical digestion of food into the small intestine by enzymes present in secretions produced by glands and accessory organs of the digestive system.
4.Absorption –This is the process by which digested food substances, pass through the walls of some organs of the alimentary canal into the blood and lymph capillaries for circulation and are by body cells.
5. Elimination –food substances that have eaten but can not be digested and absorbed are excreted as feces by the process of defecation.
The parts of alimentary canal –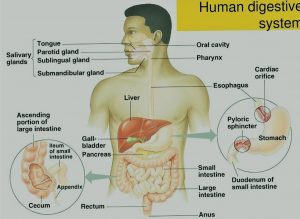 Mouth

Pharynx

Esophagus

Stomach

Small intestine

Large intestine

Rectum & anal canal.
Mouth –Contains tongue, teeth, salivary gland
Teeth – Adult -2123/2123( permanent teeth) &

Child  -2102/2102 (deciduous teeth)
Incisors, canine premolar, molars
For mastication and drinking.
Pharynx– is divided into three-parts
Nasopharynx
Oropharynx
Laryngopharynx
The nasopharynx is important in respiration.

The oropharynx and laryngopharynx are passes common to both the respiratory and digestive systems.
Esophagus -The esophagus is about 25 cm long and about 2 cm in diameter.
Lies in the median plane in the thorax in front of the vertical column behind the trachea and the heart.
It is continuous with the pharynx above and just below the diaphragm, it joins the stomach.
Stomach-stomach is continuous, with the esophagus at the cardiac sphincter and with the duodenum at the pyloric sphincter.
It has three parts the fundus, the body, and the pylorus

They consist of specialized cells that secrete gastric juice into the stomach.

Stomach size varies with the volume of food it contains which maybe 1.5 liters or more in an adult.
Small intestine –The small intestine is continuous with the stomach at the pyloric sphincter and leads into the large intestine at the ileocaecal valve.
Length- little over 5 meters long and about  2.5 cm in diameter.

In the small intestine the chemical digestion of food is completed and most of the absorption of nutrients takes place.

It has three parts –
Duodenum -25 cm
Jejunum -2 meters
Ileum -3  meters.
Large intestine – 1.5 meters long, beginning at the caecum in the right iliac Fossa and terminating at the rectum and canal deep in the pelvis (anus).
Its human is about 6.5 cm diameters.

Large intestine contains certain types of bacteria –which synthesize vitamin K and folic acid.  They include-Escherichia coil, enterobacter aerogens, streptococcus faecalis and clostridium perfringens .these microbes are commensals, ie normally harmless, in humans.

(commensal-living on animals /plants and getting food from the situation but doing no harm

)

I hope you guys like this post -Human Digestive system (Alimentary canal)