Let's start this post -TLD-(THERMOLUMINESCENT DOSIMETER)
INTRODUCTION  
TLD badge mainly a plastic cassettes and nickel-plated aluminium, containing 3 disc.1- metallic filter,2-plastic transparent, 3-open window.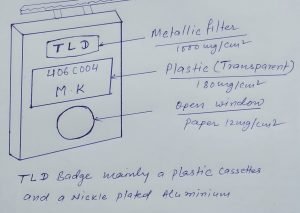 TLD is capable of using absorbed doses from about 1m rad to thousands of rads (accuracy +,-10%)
TLD badge is more accurate than film badge it consists  CaSo4 (calcium sulphate )with  Dy(dysprosium 0.05%), ratio – 3:1
CaSo4  also called thermoluminescent material, another most common type of TLD like calcium fluoride, lithium fluoride, beryllium oxide etc.
TLD-badges are radiation recording device which is sensitive to X-ray, Gama ray and  Beta radiation, (dose range 10 mR to10,000 mR) Badge service is conducted on a quarterly basis and they are sent to BARC  (Bhabha atomic research centre  Mumbai ) for dose evaluation.
Also, Ultra tech laboratory private limited Kumhari, Raipur (Chhattisgarh ) provide personnel monitoring service under the supervision of BRAC (Bhabha atomic research  centre Mumbai )
In 1975 BARC developed TLD badge system.

BARC is ested on 1954 in the name of Dr Homi Jehangir Bhabha(Birth on  30 Oct 1909-   Died on  24 Jan 1966)
Advantage
Fast reading capabilities of radiation

For making patient exposures and making other exposure measurements.

Less given false reading due to environmental condition, such as heat, light, pressure.
Uses of TLD
TLD badges are used medical procedure as radiology, radiotherapy, nuclear medicine and all work in radiation-related research.

TLD badges hang inside the lead apron on chest position of a technician or  Profesnnel worker, Doctors who work on radiation-related area.
Proper use (PPE) personal protective equipment-
Good hygiene

Control of contamination

Proper uses of PPE (lead apron, gonad shield, lead glass, thyroid cap etc )
Question –In Fluoroscopy what can we use to measure the absorbed dose to the finger – Answer –TLD
Which material is used for radiation protection – lead

TLD Badge made of the material is CaSo4.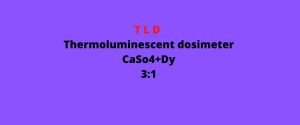 I hope you like this post- TLD- (THERMOLUMINESCENT DOSIMETER)