GRID FILTER COLLIMATOR USE IN X-RAY 

GRID – Grids are placed between the patient and the x-ray film to reduce the scattered radiation reaching the detector, And improve the image contrast.(4:1) (8:1 ) (16:1)
Grid ratio = h/d
Where h – the height of lead strips 
d – distance between lead strips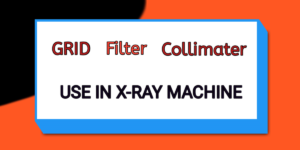 Filter – Filters are metal sheets placed in the x-ray beam between the window and the patient that is used to remove (attenuate) low-energy of photon from the x-ray beam. ( Cu ,Al,Tin,Lead ). 
Collimator– A collimator is a metallic barrier with an aperture in the middle of focus used to restrict the size of the x-ray beam and the Volume of tissue irradiated. ( thick plate made of lead )
Collimation decrease the risk of radiation, minimize scattered radiation with sharper image & better contrast.
GRID FILTER COLLIMATOR USE IN X-RAY